UPCOMING SPEAKER ENGAGEMENTS:


Annaliese Schools announce that on January 13,2017, Lynn Epstein, Director of Laguna Beach Language & Speech Clinic will direct our staff in a workshop on using picture books to promote oral language, reading and writing at every age.
Anneliese Schools, K-6 Laguna Beach, CA
January 13, 2017
Part 2: Techniques to Build Narrative Skills and Critical Thinking


Past:
Anneliese Schools, K-6, Laguna Beach, CA
October 24, 2016
Part 1: Helping Student Become Deeper Thinkers and Effective Communicators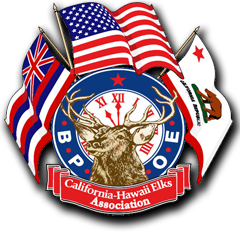 California-Hawaii Elks Major Project Inc
Yosemite National Park, CA, October 5-6, 2016
2 Part Workshop:
Keys to Parent Involvement
Building Resilience through Play & Humor
Florida Language Speech & Hearing Convention
Orlando FL, May 27, 2016
Presentation: Helping Parents Help Their Kids
California Speech Hearing & Language Association State Convention
Anaheim, CA, April 29, 2016
Presentation: Keys to Parent Involvement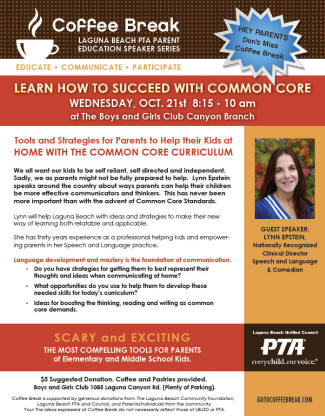 PTA Coffee Break to host Lynn Epstein Wednesday

The PTA Coffee Break is hosting Lynn Epstein, a Laguna Beach-based, nationally recognized speech and language pathologist and humorist on Wednesday, Oct 21, from 8:15-10 a.m. at the Laguna Beach Boys and Girls Club Canyon Branch.

Titled "Helping You Succeed at Home with Common Core," Epstein will offer her expertise on how to help children communicate better while becoming deeper thinkers. Relying on over 30 years of professional experience, as well as a successful career as a stand-up comedian, Ms. Epstein will offer substantive strategies in an entertaining way that will help make this new age of learning both relatable and applicable at home. The Boys and Girls Club is located at 1085 Laguna Canyon Road. There is a suggested donation of $5 at the door. Coffee and pastries are provided.

Coffee Break is a monthly program organized by the Laguna Beach PTA Council's Parent Education Committee. It is supported by generous donations from The Laguna Beach Community Foundation, Laguna Beach PTA and Council and individual community members. The ideas expressed at Coffee Break do not necessarily reflect those of LBUSD of PTA.

For more information visit: www.gotocoffeebreak.com
Here's what Sherine Smith, Ed.D, Superintendent of Schools said about Lynn's presentation

"Our excellent PTA offered a relevant and useful parent education session at Coffee Break this Wednesday. It featured Lynn Epstein, a (speech language pathologist) and local expert on developing listening, speaking, and critical thinking skills. She shared a variety of strategies to help parents develop children's critical thinking. Lynn noted that nothing can replace meaningful conversations between parents and children. She explained parents can take advantage of conversations to not only deepen the bond with your children, but pose thoughtful questions that help kids carefully think problems through, be they personal or school-related. Lynn shared some ideas about using "question stems" to help develop critical thinking."
.......................................................................................................................
Contact Lynn to speak at your next event! With over 25 years of clinical experience, Lynn loves sharing her knowledge and expertise! Participants agree that she is enthusiastic and very entertaining. Lynn has developed and directed early intervention programs, parent-teacher education workshops and published articles. She is passionate about empowering therapists, educators, parents and anyone who is willing to listen! Email or call Lynn to schedule a workshop in your area.
Testimonials from past seminars:
"This seminar needs to be attended by both graduates and by people who have been practicing for years."
- Ann E. Susamar, SLP-CCC
"Thank you for great ideas and inspiration! It was a very informative session about parent involvement."
- Julian Küttner – SLP-CFY Merced USD